The Glenlivet distillery in the Speyside region of Scotland was founded in 1824 and now produces one of the world's most popular single malt whiskies. After 18 months of intensive renovations, the newly refurbished distillery and visitor centre reopened in July 2021, offering immersive tours, rare whisky tastings and exclusive bottlings.
Heavyweight Agency had the honour of designing the on-site experience for this legendary distillery. We embarked on an ambitious project to combine digital tech and real-world sensations to create something truly memorable for visitors. This became a digital sensory table experience that took participants on a journey through whisky and The Glenlivet distillery.
When visitors approach a table, they interact with an app that works in conjunction with the process of smelling the aromas of various whiskies. The Sensory App then recommends the ideal whisky for them, based on a detailed analysis of their answers. The aim is to pair centuries of tradition with the latest technology to deliver a bespoke experience for each guest.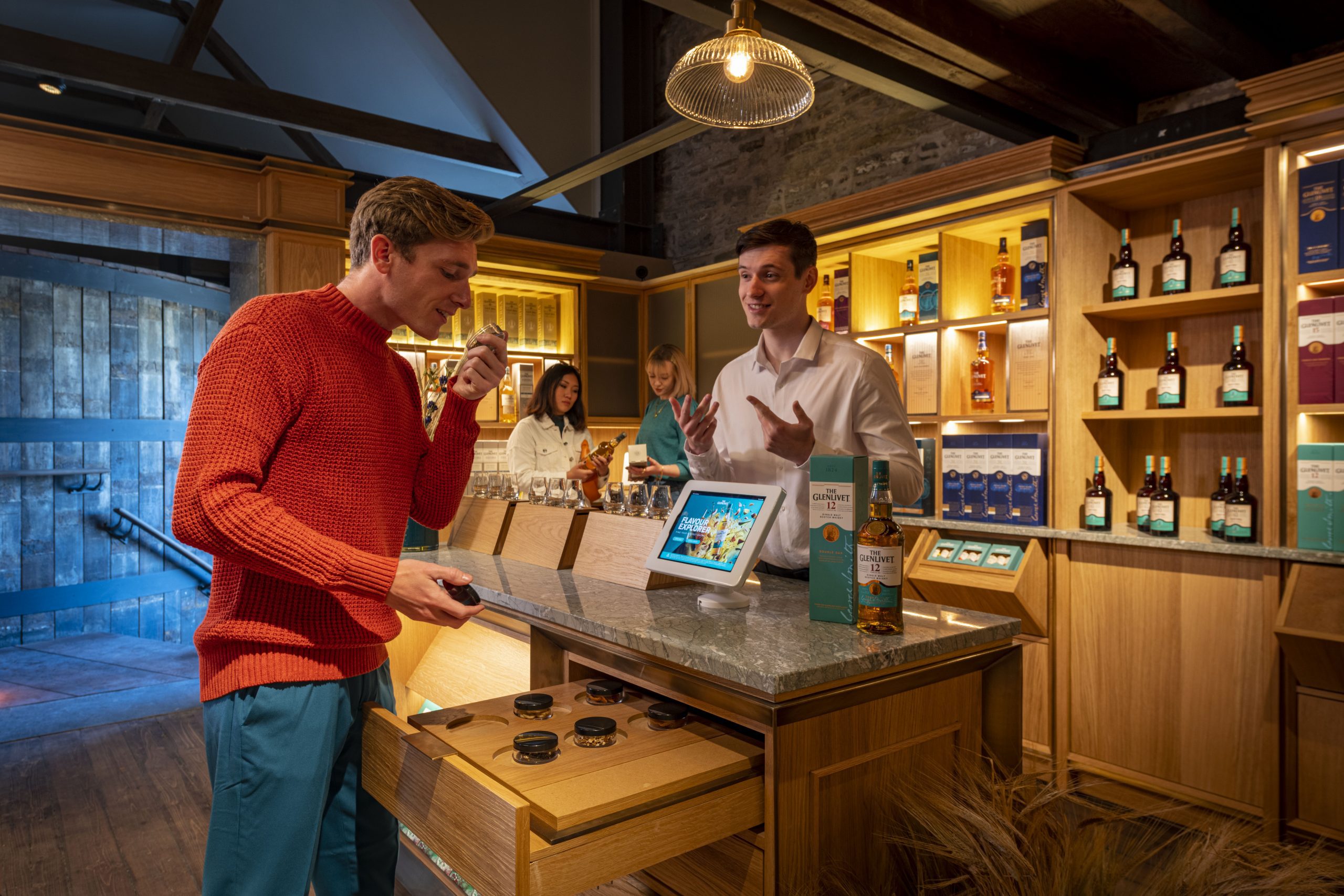 Multiple factors came into play to ensure the best user experience from a technical perspective. It was built as a progressive web app, using Google Analytics to monitor how people used it and progressed through each stage. To ensure a solid and focused journey, we used guided access, so the iPads used were restricted solely to the app; while also employing an auto timer to reset to the app's home screen after a period of inactivity, so each visitor would start with a fresh experience.
This creates an immersive experience that blends history and modern tech, resulting in overwhelmingly positive feedback from users and the distillery team alike.
John Wilson, retail leader of The Glenlivet distillery, said, "The feedback across the whole Brand Home has been fantastic. Our guests and visitors really love it. It is pretty stunning and the experiences inside the Brand Home really do go hand in hand with this."
The Glenlivet distillery is one of Scotland's leading attractions, based in Moray, deep into the heart of Scotland's whisky-making countryside. This exciting new tour experience means the distillery will be at the cutting edge of experiential whisky events long into the future.