If you have been trying to figure out how to deliver content and promotional messages to a niche audience on social media for free, there is a way to access millions of people without spending a penny.
That might sound like the ultimate 'click-bait' opening line and it may sound too good to be true, but bear with us.
When it comes to Facebook and LinkedIn, there are hundreds of thousands of individual social networks operating within each platform, which take the shape of closed / private groups.
One Facebook group can contain over 100,000 people, all of whom have made a decision to enter the group in order to connect to a niche community of people.
For example, London Tech Startup Jobs contains over 23,000 members, so what better place for a recruitment agency to share adverts and job openings?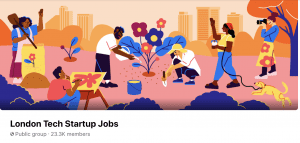 A huge number of businesses overlook the potential offered by closed groups as focus is placed on organic posts which appear on the home feed.
Paid social media adverts have the potential to target the same audience, however, how many times do you scroll past a post as soon as you see that it is sponsored?
Furthermore, there is no guarantee that your perfect target audience will see the content, which means you're likely to be charged for impressions and clicks from people irrelevant to your campaign.
So what is stopping other business from doing this all day long?
Unsurprisingly, the reason that closed groups exist in the first place, is so that consumers have a place separate from their news feed which is free of promotional content and advertising. Many groups are set up by people simply looking to communicate and network without their messages open to all of their connections.
For a business this is a challenge, as simply dropping an advert into a closed group won't work as group admins will immediately remove the content and ban you from the group.
That's why you need to be intelligent with your messages and the content you share.
Once you have entered a group, make sure to post all of the content from a personal account and speak like a human being instead of a brand. For example:
What NOT to say:
"Get your hands on the Yoga Mat 3000! The next generation of exercise equipment which will push you and your body to the next level of strength and conditioning."
What to say:
"Hey guys, I work for an exercise equipment business and we're looking for people to give our new yoga mats to for free. We're really excited about the technology we have developed and we want to see what people think of it. If you would like a free yoga mat, just leave your name and email address in the comments section below and we'll be in touch."
The point here is that you need to have a human voice and an offer that people will react to positively. Closed groups may not be the best channel to push direct sales, however, generating user feedback and user-generated content is your best bet.

Furthermore, if you have a nice article which you would like to get more eyes on, LinkedIn and Facebook groups can act as powerful click generating channels.
If you do choose to utilise such groups, you should ensure you have unique tracking links set up.
This can be done in the space of two minutes and will allow you to separate organic, paid and group user traffic.
Utilise Google's free URL builder, by clicking here.
No matter what business you operate, there will be some kind of Facebook or LinkedIn group containing your perfect customer, and even if you don't have the time or resources to curate and share content unique to closed groups, you can still learn about the behaviour of your audience instantly.
In the rare instance that you don't have many related closed groups, that may actually be an even bigger opportunity, as you may be able to fill a gap in the market and create your own closed social group.
Just make sure to name the group something unrelated to your brand, otherwise, people will be unlikely to enter unless you offer an incentive to your existing audience.
In this instance, you'll be able to interact and promote your content freely.

Finally, once you have gained entry into a number of groups and shared content, you'll be able to utilise all of the other members to develop your prospect database.
Ultimately, if used correctly, closed social media groups could become the single most successful marketing channel you have access to.
---
George Brown