Love it or loathe it, there is nothing bigger than football when it comes to broadcasting and the consumption of content on a global scale.
So when the global lockdown put a halt to the game and the entertainment of billions of people worldwide, a huge vacuum was left as well as questions of whether the product would be forever damaged and irreversibly changed.
However, three months after the UK entered lockdown, all five major European leagues are set to be back up and running consecutively.
The Premier League returns on the 17th of June but not like anybody has ever seen before.
Without fans and the atmosphere they generate, broadcasters have been left with a huge problem. The spectacle will be lost.
The tension, drama and ecstasy generated by a crowd of 60,000 people is just as important as a player worth £90 million pounds dancing around 500 defenders, and the broadcasters know it.
That is why they are turning to the latest innovations in technology to improve the viewer experience and ensure their high cost subscriptions continue to roll in from millions of people.
If it works out well, it's likely that events based businesses and other sports will adopt a number of innovations showcased during the return of football, so even if you're not a fan, it might be worth tuning in.
Here is the tech set to redefine football.
Fake Crowd Noise
Anybody who has played the video game FIFA Football will know how effective and realistic the sound of in-game fans can be. Fortunately for the Premier League, a huge library of high-quality sound recordings of goals being celebrated, players being sent off and songs being sung have been recorded over a number of years.
It's a ready-made solution which the Premier League is looking to utilise in order to bring some kind of atmosphere to broadcasts.
Melcior Soler, the man in charge of the Spanish audiovisual effort, said;
"This is something very old in TV. In a sitcom, for example, there is applause, or laugh-tracks; many effects which are not real. These are also used in late-night talk shows. The viewer has accepted them in a natural way since the 1960s."
(via The Athletic)
Live in-app engagement
Without the ability to question the eyesight of a referee or scream expletives at an 18-year-old, the fans who usually go to watch live football will feel disconnected and unable to engage with what is happening in front of them.
However, therein lies a major opportunity for the broadcasters to drive sign-ups to their apps and websites.
By offering fans the opportunity to engage in live opinion polls throughout the live broadcast, it's likely that millions will participate.
Betting apps have perfected this science over the years as 'in-game' bets are now available as well as 'cash-out' options, which have driven enormous growth in the industry. Unfortunately, due to the huge loss of broadcasting revenues felt by Sky and BT, it's likely that betting adverts will dominate the half-time breaks unless regulations are put in place.
A less nefarious example of digital engagement has been the use of Twitter by broadcasters, with live tweets regularly appearing on screen to support the narrative of the game, season or scandal.
For example, if a certain £90 million Manchester United player doesn't look like he is interested in playing, Twitter will be scoured for fans expressing their displeasure at his performance.
Mobile activity will skyrocket during games, so expect to see new and innovative ways to engage with commentators and other fans using your phone.
Large scale AV
The development of large scale audiovisual systems has been rapid over the past 20 years as LED and LCD screens have increased in size and picture quality.
It's now possible to erect 'video-walls' which comprise multiple 60" inch screens, all displaying one single image.
Similarly, the kind of screens you see on the side of stages at music events have also grown in size, allowing people miles and miles away from the action to see what's going on.
This technology has already been used to live stream fans into stadiums, with their living rooms placed on massive screens beside the pitch.
The immediate danger of fans misbehaving is a scenario clubs are aware of, nobody wants to see an unsolicited 80" shot of a naked 20 stone Newcastle fan at the end of the day, so 'Digital Stewards' are being appointed to manage the attendees, who will register and appear via live Zoom streams.
Long term, this may have a wider impact on the game, as the millions of fans who can't attend live games in the future, may finally have a way of being inside the stadium.
Expect this innovation to stay.
Digital fans
A number of German football clubs have decided to use cardboard cut-outs featuring the images of fans to fill the stands of stadiums, which does seem to provide some kind of presence at games.
The tech is simple but effective, as fans are asked to upload their images online with specific parameters provided. The only problem so far, has been fans uploading pictures of other people, such as Dominic Cummings who was a long way from home, again.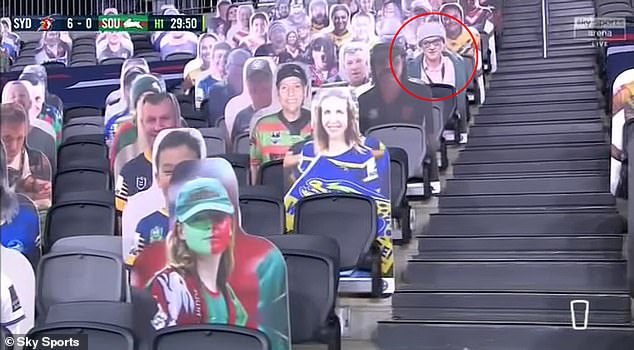 The alternative, is to use digital fans and create a fully digital version of a crowd complete with audio production.
From a technical standpoint, this would be difficult as the numerous cameras inside a stadium would have to be synchronised perfectly to align with blue screen / green screen stretched over seating.
Whether an alternative appears is not yet known, but if the technology can be worked out it will be interesting to see how the technology will be adapted in the future.
For example, the number of people attending the inauguration of Donald Trump was significantly lower than the inauguration of Barack Obama as shown below.
But what if politicians had technology which could fill in the gaps and make political rallies seem much bigger than they are to a televised audience?
Humans have a tendency to create new and innovative technology for one purpose without considering the wider implications it may have for society, so let's hope the fake fans stick to football…
---
George Brown